How a Pet Stop Pet Fence System Works
Typically, there is a buried underground wire installed around the perimeter of your property with training flags. This wire begins and ends at a transmitter box that is located indoors at an outlet for power. Your pet wears a small customized receiver that is programmed for your pet's size and temperment. Using our Low-Stress GentleSteps™ training method, your pet is introduced to the boundary and is usually free to roam your property in under 2 weeks.
You can read more about our most common system layouts below.
What Will My Dog Feel?
Learn about our effective, humane GentleSteps™ training method on our Training page.
Training with GentleSteps™
San Antonio Dog Fence's Promise to You
As your local pet fencing experts and fellow pet lovers, we take our job seriously. When you purchase an underground pet fencing system from San Antonio Dog Fence, you're entrusting your pet's safety to us and our products. That's why we're proud to be a Pet Stop® dealer, providing you with products Manufactured in the USA from imported raw materials to ensure quality and reliability.
We're confident that when you choose a professionally installed electronic pet fence system from us, you're getting the very best in pet containment and customer service. Whether you're looking for an outdoor pet containment system or an indoor pet containment solution, contact us today to find out how San Antonio Dog Fence can help keep your pets safe and secure. We look forward to working with you and meeting your pet!
Underground, Electronic Pet Fencing System Layouts
Below are our most common layouts, but they can be customized to what best suits your needs and your property. If you need to have certain sections of your property closed off (such as pools, flower beds, the driveway, etc.) we'll work with you to find the best solution.
---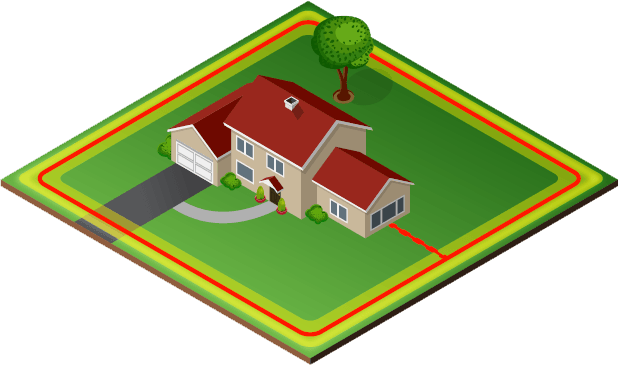 Perimeter Layout
This is our most common layout. The perimeter layout covers your entire property, both front and backyards, giving your pet the maximum amount of freedom to roam while keeping them safely contained.
---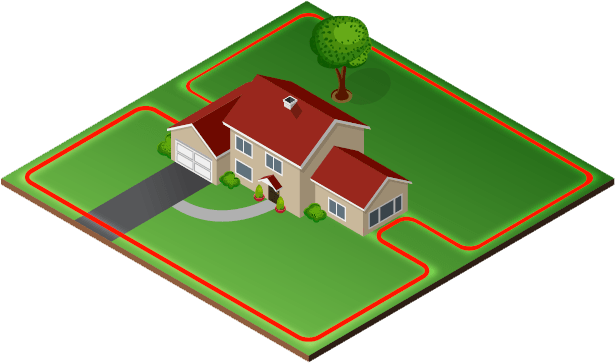 Hourglass Layout
This layout covers most of your property, but pinches off the sides, creating two separate containment zones. In order to move between the front yard and backyard without fear of escape, your pet will have to go through the house.
---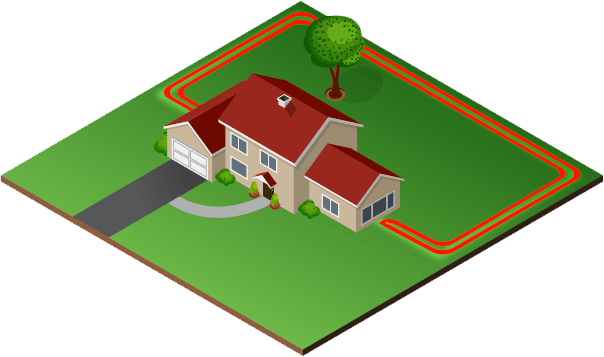 Double-Loop Layout
This is another common layout, but is generally only used when your property's geography won't allow for the installation of a full perimeter or hourglass layout.The Double-Loop covers either the front -or- backyard only, the main drawback being possible escape if your pet runs out the wrong door and onto an unprotected part of your property.